OUR HUMAN RESOURCES CONSULTANCY'S SERVICE OFFERINGS
- Assessing applicants short-listed for the final interviews by the company itself
(which is a help for decision making).
- Assessing, detecting, orienting and developing potentials so as to enlighten decision making related
to internal mobility in particular.
- Devising and implementing plans for talent management and retention
(career management).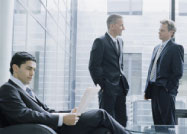 - Management and Human resources consulting.
- Behavioural coaching (personal development).
- Recruitment manager training.
Relief HR: we scout, advise and develop your talents.